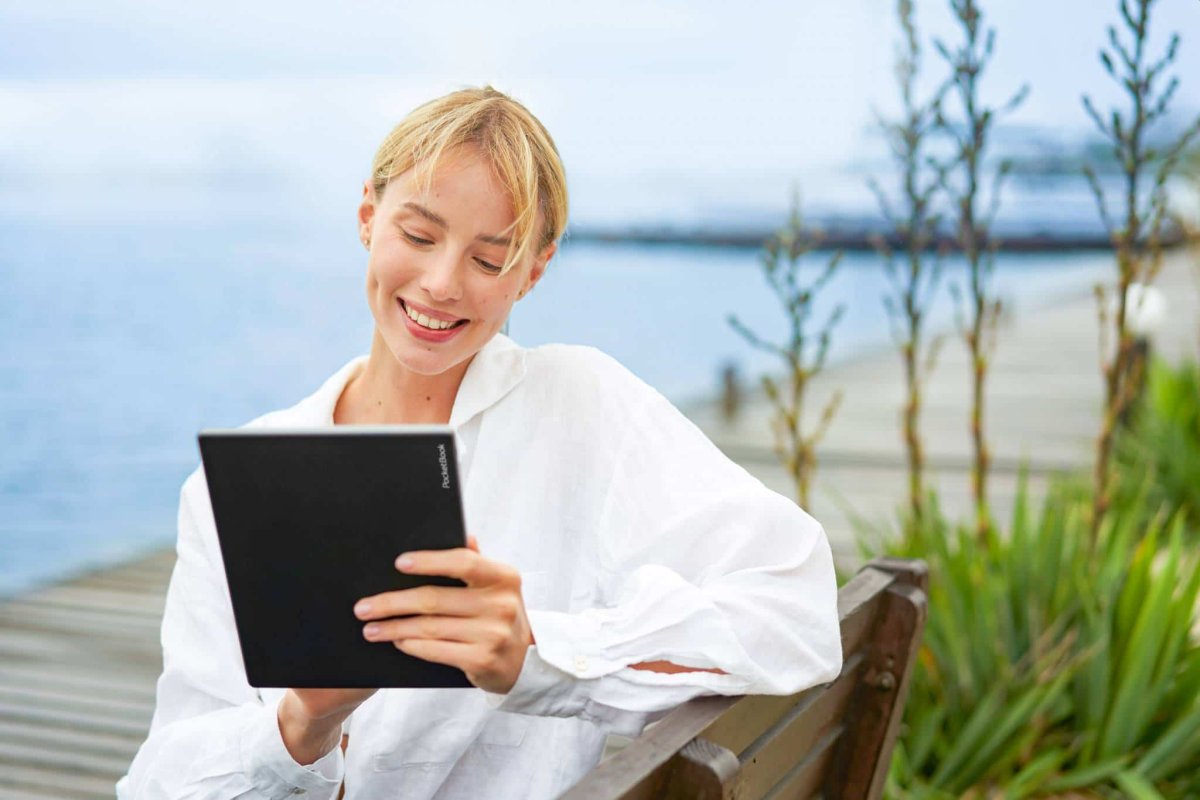 The Pocketbook InkPad Lite is a new 9.7 inch dedicated e-reader. The screen does not have a layer of glass, which really makes text pop. It also is perfect for reading outdoors, since there is no glare on the screen. It has wide support for a ton of different ebook formats, including manga and magazines. There are very few large screen ebook readers on the market with an affordable price.
The Pocketbook InkPad Lite features a 9.7 E INK Carta HD with a resolution of 1200×825 with 150 PPI. Although the PPI isn't that great, but there is no glass layer, so you see the e-paper display and can even touch it. The sunken screen and bezels provides very crisp text when  reading. The vast majority of ebook readers on the market, from Kindle to Kobo to Nook, all have glass screens, which reflect light when you're outside, which kind of defeats the purpose for buying an E INK device.
The front display features with 24 white LED lights to read in lowlight conditions. There are two slider bars when you tap at the top of the screen and you can either combine the two lights, or just use one or the other. The sweet spot is turning the white lights at 75% and the amber LED lights at 40%, and this results in a very nice muted lighting system.
You can turn the page by two ways when reading digital content . One is via the capacitive touchscreen display and the other are manual page turn buttons. The buttons are on the right side, which are not protrusive from the side of the bezel, that is a nice design. There is also a home and settings button too.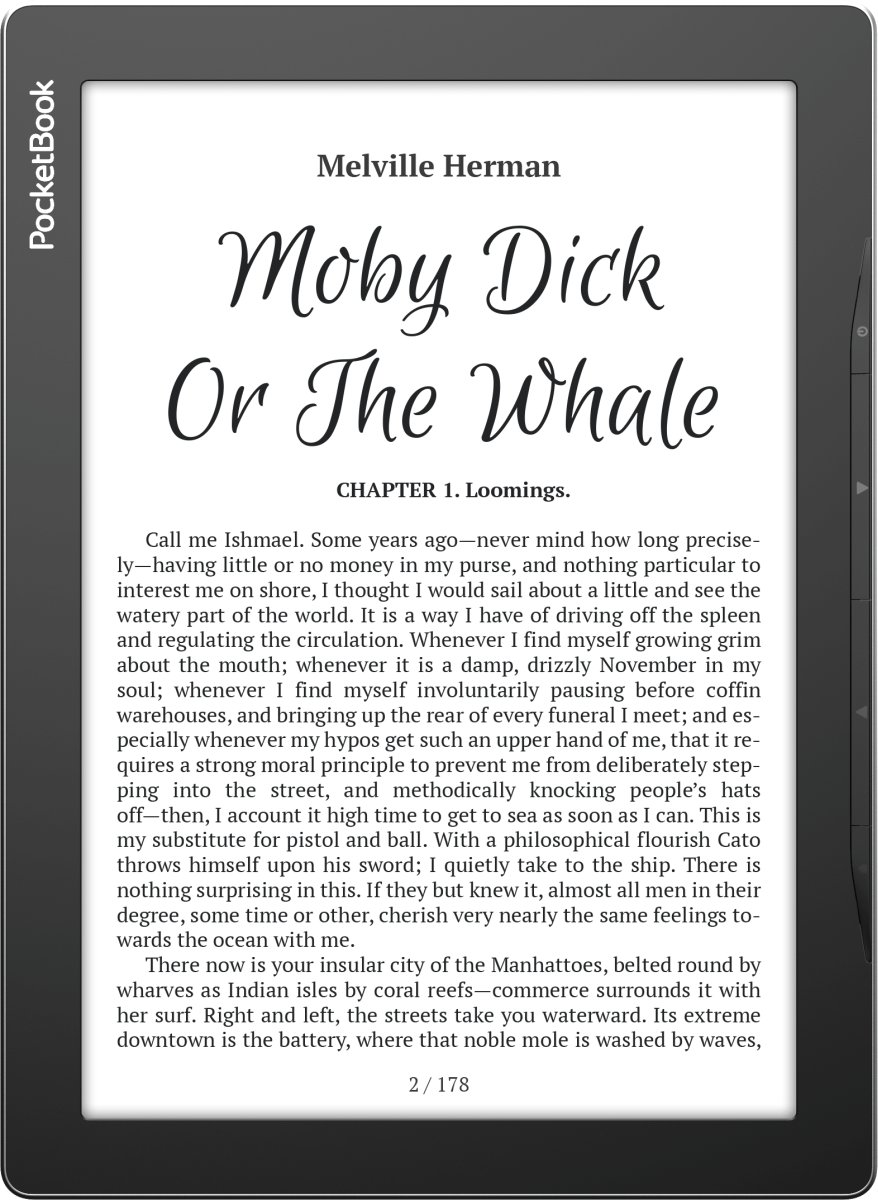 The inkpad Lite  is a dual core 1.0 GHZ processor, 512MB of RAM and 8 GB of internal storage. If you want to increase your storage further, Pocketbook supports the MicroSD port on e-readers. This model can handle up to a  128GB card, so it will be able to store your entire ebook and PDF collection. The Lite also employs a g-sensor, so you can flip the orientation, so lefthanded people can use the physical page turn buttons. You can browse the web and take advantage of various cloud storage solutions with WIFI. It also features a USB-C port for charging and transferring data. It is powered by a respectable 2200 mAh battery, which should provide a solid four weeks of constant usage.
One of the main advantages of the Pocketbook brand is the sheer number of supported digital formats. You can read manga and digital comics with CSM, CBR or CBZ. You can read  DJVU, DOC, DOCX, EPUB, EPUB(DRM), FB2, FB2.ZIP, HTM, HTML, MOBI, PDF, PDF (DRM), PRC, RTF and TXT ebooks. There are a number of Abby Lingvo dictionaries that come pre-loaded and you can optionally download up to 24 additional languages.
Pocketbook runs Linux on all of the e-readers. This is the same OS that the Amazon Kindle and Kobo line of e-readers employ. This OS helps preserve battery life, because there are no background processes being run. It is also stable.
The Notes section is exciting. It is a dedicated note taking app, which you can use to jot down notes with your finger or use a capacitive stylus. There are 6 different shades of grey, including black and white, which can be used for contrast. You can do multiple pages or delete pages, the files are stored on your e-reader and can be exported as a PDF or PNG.PB mainly just does this as a service, although the whole note taking experience is better on their color e-readers, since you can draw in 24 different ones.
One of the coolest new software features is the ability to pinch and zoom to change how big you want the fonts to be, instead of having to go to the ebook settings menu. This makes it more intuitive for new users to e-readers. You can also increase the size of the fonts with a slider bar, and there are around 50 different fonts that are pre-loaded, but you can also install your own. Of course, like any e-reader, you can adjust the margins and fonts.
The Pocketbook Lite does not play audiobooks, music or anything else. It does not have Bluetooth or anything else that gets in the way of a pure reading experience. Pocketbook is one of the few ereader which only focus on large screen e-readers, without any of the frills of the competition. This helps cut the costs down and make them more accessible to more users.
---
Post time: Dec-31-2021